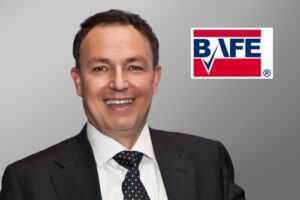 At this year's BAFE Annual General Meeting it was announced that Simon Banks, Group Managing Director of CSL DualCom Group, has been appointed to the Board of Directors.
"BAFE is delighted to welcome Simon onto our Board," said Stephen Adams, Chief Executive BAFE. "His commitment to technology development, apprenticeships and skills, within a framework of competence and third party certification will be extremely valuable to support our development."
Simon is also a non-executive member of the NSI's (National Security Inspectorate) Board of Directors to represent the sector within security and communications.
Simon Banks stated: "BAFE is an important body in the fire sector and I am pleased to join the Board of Directors. As the fire and security industries continue to get closer it is key that we recognise the technology that will be a strong part of this industries future."