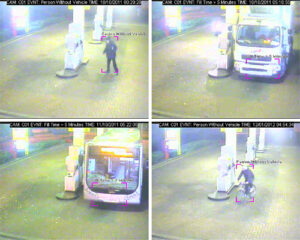 According to Farsight Security Services the last three years has seen a 73% rise in the number of forecourts turning to monitoring services, thus signifying a growth in popularity for remote monitoring over staffing the high-risk environment.
Lone workers at petrol forecourts face a vast and probable list of dangers including fire and theft. Remote monitoring eliminates these risks. Malcolm O'Shea Barnes, senior operations manager at Farsight Security Services, explains: "Over the past three years the use of CCTV at unmanned forecourts has been refined to ensure the safety of the general public."
In 2011, only 1% of petrol forecourts monitored by Farsight used video analytics. In 2014 that number has rocketed to 69%.
Malcolm explains: "Video analytics technology make unmanned forecourts a safe, cost-effective and secure alternative to staffing. Cameras rapidly identify specific threats. There's even talk of cameras being equipped with automatic number plate recognition to prevent uninsured drivers filling up.
Ray Blake, Head of Petroleum from the London Fire Brigade (LFB) says: "Controlling the risks of fire and explosion at unmanned forecourts operated by our Primary Authority Partners is a high priority. National guidance requires a system that has a two-way voice call point that allows the public to contact the remote monitoring station.
"On top of that, the remote monitoring station must have the ability to control power to the pumps and deactivate them in case of an emergency, to contact the locally based emergency services, and to ensure a competent person attends the site within a few minutes and have a comprehensive set of procedures in place for serious incidents such as a car or person on fire."