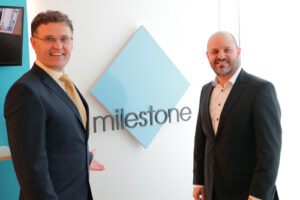 Milestone Systems hosted more than 100 of its UK partners and customers at the opening of its new UK & Ireland headquarters in Green Park, Reading on April 28.
"It is great to celebrate this important stage in Milestone's development in the UK by moving into brand new offices at Green Park in Reading on the M4 'Silicon Corridor'. It marks the beginning of a significantly increased investment in supporting our partners in the UK and Ireland doing more business with us," says Chris Whitting, General Manager, UK & Ireland, Milestone Systems. "Partners are welcome to use our demo facilities to help train their people in our technologies and demonstrate solutions to prospective customers."
Milestone VP EMEA Thomas Lausten and Chris Whitting talked about the company strategy for accelerating growth in the region; increasing its support for key distribution partners, and creating initiatives to accelerate more growth for the partner ecosystem in this region.
Milestone has also announced that its UK team has recruited Peter Greener, Channel Business Manager for the North of the UK. Peter was previously Business Development Manager – IP CCTV at Norbain. The company plans to recruit two additional members of staff in the coming months.
Pictured (L-R): Chris Whitting, General Manager, UK & Ireland and Raziel Bareket, Director, North Western Europe, Milestone Systems