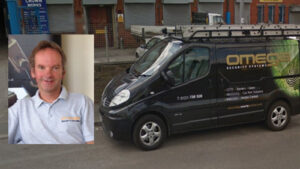 Richard Ward is the Managing Director at Bradford-based Omega Security Systems. With over 30 years' experience in the sector, Richard lists CCTV, access control, barriers, gates, intercoms, intruder, biometrics and solar installation as areas of expertise. Company accreditations include NSI Gold, CHAS, Safecontractor, Constructionline, NAPIT, Investors In People and ISO 9001/2008
Do you use a distributor or buy direct from manufacturers?
Over the years Omega has developed a brilliant network of distributors and suppliers. We have found that by creating a focused team around us it helps in all aspects of our delivery, from being able to access equipment quickly, to identification of any problems we may encounter with non-conforming products. We aim to swiftly rectify any issues. Over time these colleagues have also become firm friends, people we know and can rely upon. We attend supplier days abroad in Germany, Austria and Turkey; all staff are pleased to attend these trips, especially to Austria where skiing, sledging and Schnapps are often involved.
Is third party accreditation beneficial to your company?
Definitely. Embedding strong accreditation within the fabric of the company is paramount, not just a hoop through which to jump. It supports our overall delivery by standardisation and benchmarking. We aim to accredit in technical, health and safety, environmental and HR, five of our major accreditors include National Security Inspectorate (NSI) Gold, CHAS, Safe Contractor, Constructionline, ISO and Investors In People. It is always a problem that although we all know that we should only need one SSIP different clients insist on the accreditation they know and prefer, so we have to hold three. We certainly value Investors In People as it is a way to show our clients and staff how much we value training.
What would be a typical project for you?
A typical project could be anything from a standard eight camera install in a leisure centre through to a remote monitored CCTV and Alarm System in an industrial or retail space. Many of our projects involve design and installation of turnstiles and gates with access control integrated with tertiary systems. We are not currently involved with the domestic market and around 95% of our work falls within the remit of 'blue chip' companies.
Are there any common requests from customers that give you problems?
Usually, the requests that fall into this category are the ones that revolve around speed and asking for the impossible! The main issues we deal with tend to be software related; we can dial in remotely to many of our sites which can help in terms of easing pressure on resources. However, no matter how many phone calls we make to the customer, engineers can still sometimes turn up to site to find a computer switched off or a programme not running correctly, which can cause a lot of unneeded stress and lost time.
Do you think there is a skills shortage in the industry? Any trouble recruiting?
Most definitely. However, we invest heavily in training and interview for potential. We have a wonderful team and we know that the strength of the company relies on the individual team members. We always appoint apprentices and our engineers take a pride in passing on their knowledge to a new generation. It's a give and take situation; at first the apprentices rely heavily on our staff and college for support, but by the third year they have grown in confidence and skills, have completed a number of theoretical units and are keen to gain their final exams to be a full part of the team. Our staff turnover is low and long may that continue!
Read the full interview in the October 2015 edition of PSI magazine