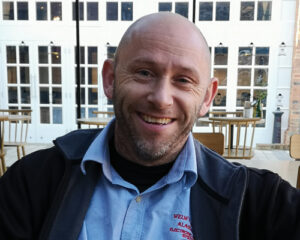 Peter Goodchild is Managing Director at Welwyn Garden Alarms and Welgard with head offices in Hatfield, but working nationwide. Areas of expertise cover all aspects of electronic fire and security systems with accreditations including NSI Gold, BAFE, ELECSA, SafeContractor and Which? Trusted Trader.
Do you use a distributor or buy direct from manufacturers?
We do both. Fire systems we get from manufacturers and security technology we buy from Enterprise or ADI.
Is third party accreditation beneficial to you?
We have always been driven by accreditation and what it stands for. When we started out with it was just for intruder then we moved on to CCTV and access control. Unfortunately I do see a number of companies that do not have fire accreditation and haven't put in the effort still picking up large projects so I think we do need to educate clients on the value of using accredited companies. In terms of fire jobs we've had people telling us that they approached us because of BAFE while for security, which is driven by insurers, accreditation is a must. Domestic customers don't seem to be too worried about certification until their insurer says that the system needs to be maintained by an accredited firm.
What would be a typical project for you?
There isn't a typical project for us as we've always been happy to take on any work regardless of the challenge. For example we fitted solar powered systems for an application that didn't have mains power and we had never done that before! Basically, we'll go from a small domestic system right up to a large integrated fire system. When I first started all we were fitting were intruder alarms and with a name like Welwyn Garden Alarms people often assume that we just do alarms for gardens in Welwyn, but we certainly don't.
Do you think there is a skills shortage in the industry?
I think that there is a shortage and everyone knows the situation. The danger is that installation companies are now picking up people who demand a high level of pay but don't perhaps command it – the demands are high and the skill set is quite low. We've been lucky in that we've always had the attitude that we should train up our own people and invest in our people. I have lost engineers over the years as they have started their own firms, which is fine, but we now have a young, driven team on board and I'm happy with everyone on-board.
Are there any common requests from customers that give you problems?
Timing in the domestic market is always an issue. For example you hear "I've lived in this house for twenty years and got burgled yesterday, so can you fit me an alarm tomorrow?" which is an issue I imagine all installers are familiar with. I think you have to manage people's expectations when it comes to lead times as no matter how many engineers I seem to have, the time frames don't change very much!
 Read the full interview in the January 2019 edition of PSI magazine