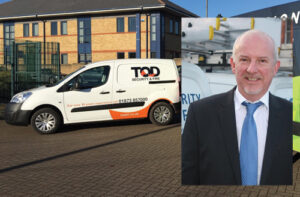 David Tod is the Managing Director of Tod Security & Fire. The NSI Gold and BAFE accredited  company is based in Abergavenny covering South Wales and the Midlands and lists fire alarms, CCTV, intruder alarms, rising bollards and gates as areas of expertise.
Do you use a distributor or buy direct from manufacturers?
Primarily we use Enterprise for our security technology supplies.
Is third party accreditation beneficial to your company?
It is absolutely essential to us, we do a lot of commercial work and without accreditation we simply wouldn't get insurance for the premises.
What would be a typical project for you?
We cover a wide range of applications from a domestic two-bedroom property up to industrial units with 150 devices and a large fire alarm. There is no common project really as we will do as many smaller contracts as bigger ones.
Are there any common issues that give you problems?
I think that Police Alarm Liaison Officers are not as sympathetic to people as they should be.
What would make your job easier?
More qualified staff in the marketplace.
Do you think there is a skills shortage in the industry? Any trouble recruiting?
There is definitely a shortage and like everybody else we work to capacity. We took on an apprentice two years ago and have now taken on another two, so we are trying to address the problem but it does take time to get apprentices to a point when they are ready to go out.
What is the industry's biggest myth?
That has to be the opinion that burglar alarms aren't effective. You hear so many people saying that they are a waste of time, including the police who, with no security experience whatsoever, have been known to advise that alarms are not worth having; get a dog instead. If you do any statistical analysis you can see that alarms do have a major impact on crime rates.
Read the full interview in the March edition of PSI magazine