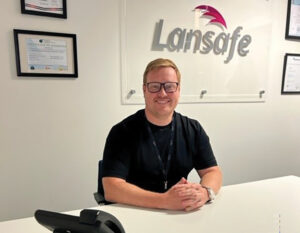 Adam Baxendale is a Director at NSI Gold company Lansafe. Areas of expertise for the Wigan-based business include CCTV, intruder alarm and access control.
What would be a typical project for you?
Most of the projects we undertake have a minimum of two to three security requirements from CCTV, access control, intruder alarm and much more. We will ensure site surveys are completed, design and proposal are presented which will then lead to a high quality and professional installation. With all our projects our customers will receive an ongoing maintenance and support package.
Do you have any 'go to' technology and manufacturers?
We specialise in providing IP solutions for 99% of our client base. We primarily install – Dahua IP CCTV solutions, Texecom for intruder alarms and Paxton access control technology. The reliability of all these products with our comprehensive knowledge helps in ensuring a quality install and after care service.
What is the best thing about working in this industry?
Technology advancements! This industry is constantly evolving with more advanced technologies. This presents Lansafe with exciting opportunities to grow, learn and develop as a provider of security services.
Is third party certification beneficial?
Yes, we have always as a business prided ourselves on high standards and this certification assists in recognising this. We are thorough in our processes from design, maintenance and monitoring to installation which is all recognised within our NSI Gold status.
Do you think there is an engineer skills shortage? Any trouble recruiting?
Yes, there is a shortage of qualified engineers. We have been very fortunate to have an excellent team of professional and highly qualified engineers, but over the years we have seen a slight decline. In order to tackle this though, we have been proactive in networking, creating a positive work environment and apprenticeship schemes to help train and recruit staff to the highest of standards internally.

Are there any common requests from customers that give you problems?
We would never say a 'problem'. Our team of experts will always find a solution to a request from a customer or find an alternative option that suits the needs of the customer.
Read the full interview in the July 2023 edition of PSI magazine