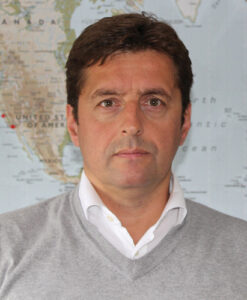 Marcus Di-Vincenzo is the Managing Director of Marsh Barton Security Services (MBSS) in Exeter. Company areas of expertise are military style security and the principles of defence with accreditations including NSI Gold, NACOSS Gold, SIA Approved, ISO 9001.
What would be a typical project for you?
We supply and install the full range of security services for any home owner, business owner or land owner, so it's difficult to describe a typical job. Having said that, we do supply a lot of security services for local businesses, as we are based on a trading estate in Exeter. So a lot of our clients require basic security measures to keep their premises safe, including intruder alarms, CCTV, access control, key holding and mobile security patrols. Our typical client might use between one and five of our services depending on their type of property or business. There are several car dealerships located nearby and for them we supply a range of different services. Car dealerships are often targets of theft, particularly theft of catalytic converters. We use a combination of alarm response 24 manned patrols to help reduce the chances of late night burglaries.
Do you think there is a skills shortage in the industry? Any trouble recruiting installers?
It's always difficult to find the right person that fits the bill when it comes to work ethic. The skill level is out there but we don't just buy the product we buy into the person. We take people on when we can see that they have the right attitude towards the work we do. If they haven't got all of the skills required for the post but they are willing and enthusiastic, we invest in them and put them through the right training so that they can start down a career path that will hopefully suit them for the future.
Are there any common requests from customers that give you problems?
We never take on a job unless we can do it well and on deadline. The deadline bit is always the one expectation that is underestimated by clients. Generally, when people decide to install security on their premises it's because they have had a break in or security scare so they want CCTV or an alarm immediately. We have to tell them that it takes time, from assessing the situation to installing the equipment.
What is the security industry's biggest myth?
The biggest myth that we face as a professional security company is that security guards or surveillance teams are un-trained ex-bouncers or heavy handed men with too much power and not enough expertise. In our case, this is very misguided. All of our staff are highly skilled and highly trained personnel. The majority of our team are ex-military men who have been working on the front line of defence for many years and handling extremely dangerous and explosive situations. We are all skilled in recognising what defence is required and how to minimise risk or breaches of security. We don't employ just anyone – we employ hard working, intelligent staff who understand how to assess the risks, analyse situations and implement strategic security plans in order to keep property and people safe. If more people understood the industry and the methods behind what we do, they might value their own security systems a little higher.
What would make your job easier?
My aim is to get businesses working together to help make the streets safer. Its all well and good individual properties installing security systems and alarms, it does the job and it protects their property. But if whole communities, towns or trading estates were to work closely together to commission a large scale security plan we would almost certainly be able to terminate crime in that area. If each property owner spoke to one another and would inform us of the trouble areas in their town or neighbourhood, we could put together a detailed security plan that would help to protect the area. Criminals would be forced out of the area altogether, thus resulting in safer streets. If the perpetrators moved on to other areas, we could do the same to eradicate the crime altogether. It's a very ambitious goal but it is one I am working towards. My aim is to make Exeter a crime free city. When I have achieved that, I'll move on to other towns and cities until the criminals give up and go home because they know they will get caught.
Read the full interview in the February 2015 edition of PSI magazine.