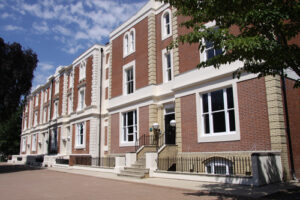 A Grade II listed building in Wolverhampton, which has been converted into serviced offices, is being protected with the help of a new video surveillance system.
Samsung Wisenet Q and P series cameras from Hanwha Techwin have been installed at Deansgate in Tettenhall Road, Wolverhampton, a two storey building built by the Victorians comprising 24,000sq/ft offices which have been refurbished and converted into 24 office suites by local businessman Surj Dhami.
"The building used to be an HMRC VAT office. When it became available we saw an opportunity to acquire it as a head office for our own expanding business, but also to provide a high standard of accommodation for companies looking to operate in Wolverhampton," said Surj Dhami, Managing Director of systems integrator, Security Direct GB.
The property dating back to the 18th century now boasts LED lighting, raised floors, passenger lifts, conference rooms and an exclusive 'tenants and guests only' business lounge, as well as parking for up to 82 cars.
Surj's approach to the rental costs of the luxury serviced offices suites extends to the provision of network and Wi-Fi technology, VOIP based telephone systems and a totally integrated security system combining access control, intercom and video surveillance. "Our tenants can be assured that they can run their business in a highly efficient, but also totally safe and secure environment," said Surj Dhami. "We have capitalised on our previous experience of installing complex systems to ensure all the component parts of the security system at Deansgate work in harmony."
At the heart of the security system is a video surveillance solution from Hanwha Techwin which has been installed as a tool for Deansgate personnel located within the manned reception area ,to keep a close eye on all activity within public areas of the building.
A total of 46 cameras have been installed. In addition to fixed cameras and domes from Samsung Wisenet Q 4MP range, these include four 2MP SNP-L6233RHP Wisenet Lite 23x zoom PTZ domes and two Wisenet P PNF-9010R 4K (12MP) 360 degree cameras. The PNF-9010Rs come complete with licence-free on-board heatmapping and people counting analytics which can be used to identify which areas of the building are most commonly used and at what times.
Images captured by the cameras are recorded onto two Wisenet X 32 channel XRN-2011 NVRs whilst reception personnel can view live images or retrieve recorded video on one of four SMT monitors via SSM video management software.