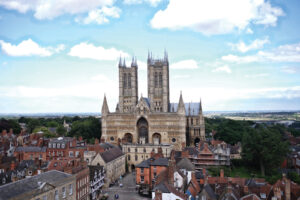 A 300-plus camera city centre video surveillance scheme in Lincoln has been installed and commissioned using cameras, monitors and switching equipment from Dahua Technology.
The previous analogue-based CCTV system was more than 20 years-old and had become expensive to maintain, so City of Lincoln Council decided to replace the analogue cameras and transmission equipment with HD digital equipment. The total cost of ownership has reportedly been reduced by the savings made on legacy fibre lease costs, as well as reduced energy consumption and the ability to configure and maintain the cameras remotely.
Environmentally friendly aspects of the project included specifying lower-energy equipment, integrating remote support and recycling hardware wherever possible. The council employed independent consultants Lever Technology Group to help them ensure they had a robust and future-proof radio network design.
The installation of the new IP full HD system and network is part of Lincoln's smart city strategy – Vision 2020 – which seeks to drive innovation in the city and harness new technologies to improve the lives of citizens. One of the results is the provision of free Wi-Fi in the city, working alongside the Dahua cameras using the same IP wireless network.
A combination of fixed and PTZ cameras were installed over a new 1GB duplex network. These include cameras from the Dahua Pro series, which features H.265 compression, and bullet cameras from the Ultra series with optical zoom, IR distances of up to 50 metres and software which supports people-counting and heat-mapping.
The bandwidth efficiency of the cameras meant that multiple cameras could be installed in any given position, providing 360-degree coverage of locations and up to 20 Megapixels of video capacity per location – compared with less than 400,000 pixels with the previous analogue cameras. The design of the scheme incorporated both camera- and server-side analytics, including video content analytics, facial recognition, ANPR, heat maps and pedestrian counting, as well as legacy motion and audio detection. The objective of the facial recognition aspect is to support operators in areas such as the search for missing and vulnerable individuals.
Supplied through authorised distributor Mayflex, the entire system was installed by Videcom Security.