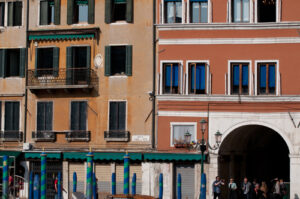 The City of Venice attracts over 50,000 tourists per day and has 118 small islands separated by canals and connected bridges. After years of relying on an outdated, analogue surveillance system, the city was ready to switch to an IP-based video solution that has an open platform.
"The existing video surveillance system comprised of a city-owned system of approximately 60 analogue, low-resolution cameras which were very hard to analyse," said Luciano Marini, Police Commander for the City of Venice, who also spoke of problems with the previous system's software and NVRs. "The video recording apparatus experienced frequent malfunctions that caused the partial loss of video feeds making it difficult to provide evidence in situations."
With the assistance of their security systems partner Venis, the City of Venice chose Avigilon technology for the project.
In the Piazza San Marco, the two Avigilon 16 MP cameras were installed in St. Mark's Campanile, hidden inside the arcade. One camera provides coverage of the Piazza in the direction of the jetty on the San Marco dock and the other in the direction of the Ala Napoleonica (Napoleonic Wing) of the Correr Museum. "The use of high resolution cameras, like the 16 MP ones, gives us highly detailed images that can also be displayed while analysing the recordings," said Commander Marini, who states the image quality has been helpful to the police in solving crimes. "To obtain the same result, we would have had to install more cameras on neighbouring monuments, with all the complications involved."
In the past, the city was forced to monitor key, high-traffic areas or areas subject to vandalism using multiple analogue cameras. "Using multiple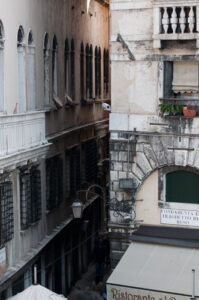 cameras, it was easy to miss significant frames because of their position or being out of focus," Commander Marini explains. "The high-resolution fixed cameras, on the other hand, don't pose this problem: they are always in the correct position and they offer a high level of detail."
As a result of the Avigilon HD system's open platform, the City of Venice has been able to scale up their system in the last few years. With the assistance of Avigilon encoders, officials have added Avigilon HD cameras to their existing analogue system and now manage all cameras under a single platform. The search capabilities of the Avigilon Control Center (ACC) software have enabled officials to locate events in a fraction of the time of their previous system.
"We find the ACC software to be very simple to use and it has helped us be a lot more efficient with our searches," said Commander Marini, who is also impressed with the software's zooming capabilities. "The ability to display different parts of the same image with various zoom levels, and get those images in HD while continuously recording the entire frame is incredible."
Identifying perpetrators of vandalism or crime by image analysis has been a key advantage of installing the HD system. "The system has on many occasions been a valuable aide to research operations, including for investigative purposes," Commander Marini said. The high-resolution images have been beneficial in providing evidence for the city's police force. On top of the technical capabilities of the Avigilon HD solution, security personnel at the City of Venice also found the system to have a price to performance ratio. "The benefits are seen on a daily basis," concluded Commander Marini. "For example, in the field of fighting unlicensed trading in public areas, we now save on manpower. Previously we had to verify all reports of the presence of illegal traders but now we can constantly monitor the affected areas and intervene with certainty."