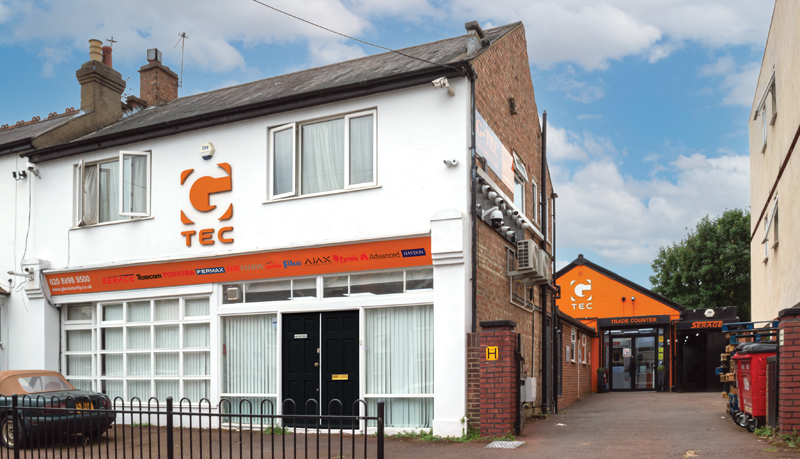 This year distributor G-TEC is celebrating its 20th Anniversary so with that milestone in mind PSI caught up with Director Sam Cherri at the Hounslow premises to find out about the ethos behind the company he began back in 2002
How has business been for you recently?
This year started very well, we've experienced a couple of months where I would describe it as being steady, rather than busy, but I think that's been due to hesitancy because of inflation. Perhaps the end users who are looking to start projects have just held back a little, but it is definitely picking up again as we have seen growth in the last month and a half. Funnily enough, even though we "lost" the last couple of years due to the pandemic, it hasn't really appeared to affect the business in the long term. I always consider security as a necessity in bad times and a luxury in good times! On the scale of things, I'd say we've done very well and the signs are very promising.
When it comes to sales have you seen any recent trends?
We sell intruder, video entry, CCTV and shortly will be supplying fire safety systems, but for me the biggest change in technology buying patterns has been with CCTV as more and more people are moving towards IP – but only when they can. The factor here is price, because installers need to make a sale and even though people have been saying for years that IP is going to take over and analogue HD is only a temporary stop gap, we've all been surprised at how long it has lasted in the market and that manufactures are still developing it. So I don't think analogue HD is going away anytime soon but eventually the sector will turn fully to IP even though IP is actually getting more and more expensive as new cameras have increased functionality such as AI and analytics built-in.
You started the business in 2002. Why, were you an installer?
A lot of people, particularly my wife, have asked me that and at the time everybody thought I was crazy! I used to work as an international sales manager for an American company and while I've always had it in me to start my own business, getting into the security industry was more of an accident. I left the video conferencing company and did a deal with them to take on the London area with their technology. Two weeks later, they changed management and the new team decided I couldn't continue with that deal, so I was without a job. I then met someone who introduced me to CCTV and I did some installation work for a year and a half and then started doing distribution on my own in a very, very small scale starting from my bedroom, then moving to bigger offices as required.
What were your goals in the early days – have they changed?
People always ask me how I managed to grow a successful company without taking money from banks and without any savings and I believe that the key was to look after the existing customers properly rather than worrying about gaining new ones and to always think in the long-term. I established G-TEC to sell solely to installers or to sub distribution, not to end users, and I tell everybody in the company that we are all in sales, even if you are the receptionist. If you are not giving a good service on all fronts the customer will go somewhere else and that's always been my belief, even from when I was on my own. Everybody here, especially the salespeople or people in technical have got to feel that they work for the customer but G-TEC pays their wages.
In addition to technology, what do installers tell you they want?
The main request is for product knowledge. Installers want to know what the technology can do and if it can do something beyond what they are already using it for. Our training academy is always really busy and we use that facility to introduce new products and practices to installers and to people connected vertically with the industry such as electricians wanting to move into fitting CCTV on a professional level. We've had plenty of people undertake a course, who then end up being customers as a result, which is great because they will take that product knowledge out into the market and push it to their customers. For example at the moment we are doing a lot of training with Fermax systems and have been oversubscribed for those sessions.
Read the full interview in the August 2022 edition of PSI magazine.