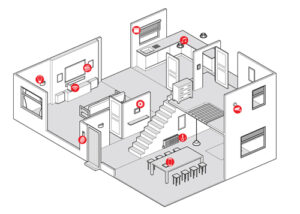 Security systems and building technology integrator Interphone has set up a new business to develop home automation and entertainment systems that will combine familiar technologies to bring added simplicity, convenience and enjoyment to everyday life. Ingeny, launched by security systems and building technology integrator Interphone, will work with property developers, architects, interior designers and home owners to create individually-tailored solutions that are designed to meet entertainment, communications, comfort and security preferences.
Whether it is a tower block, individual home or other large multi-dwelling estate, Ingeny will handle design and consultation through to installation and ongoing support.  These integrated and 'smart' building solutions will give residents, along with property owners and managers, complete control at the tap of a touchscreen, smartphone or tablet.
A demonstration suite, located at Interphone's Harrow headquarters, has been opened to show how all the complementary systems and control solutions come together in a truly seamless way. It combines all aspects of home and smart building automation to provide a live, integrated facility covering energy management, security, home application controls (such as blinds and lighting) and audio visual technologies.