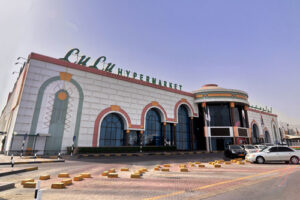 Dahua Technology has provided its HDCVI solution to secure Lulu Hypermarket in Muscat, Oman with cooperation from its system integrator China Communications Services. This is the first time that Dahua and China Communications Services have cooperated for an entire CCTV project.
The Lulu installation mainly uutilises Dahua HDCVI Professional series products, including HDCVI cameras, HDCVI DVRs, VMS, IP storage and video wall. Around 250 HDCVI cameras, including bullet, dome and PTZ, were provided. A Video wall display unit was used in the control centre and IP SAN storage devices are used to meet the 90-days recording requirements.
"HDCVI is Dahua patented technology featuring HD analogue video transmission over coaxial cable, allowing long-distance HD transmission. As for the Lulu Hypermarket, we provided our HDCVI professional series products to protect the whole market," said Rio Mao, Sales Director of APAC at Dahua Technology.