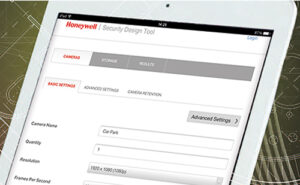 Honeywell has announced its new Specifier Programme, created for specifiers looking for design support and access to information with integrated security solutions.
Joining the Programme gives access to a new design tool that will help installers select the solutions and get the data required. The online application is designed for use 'on the go' and can be accessed via a laptop, tablet or smartphone. Initially designed around IP Video, it will guide users intuitively through the specification process to ensure designs meet clients' needs.
In addition to the design tool, a tailored programme also offers information, specific design support and specialist expertise. As well as access to free training and opportunities to meet at events, members can visit Honeywell City, an online tool showing how the company's integrated solutions have been deployed within each sector.