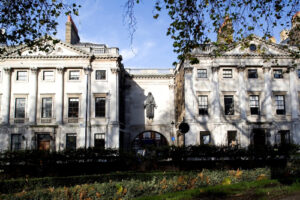 The British Safety Council is holding its Annual Conference 'Health and work in a changing world' on 5th October 2016 at The Kings Fund (pictured), London. The conference will attempt to de-mystify the meaning and place of health in the workplace.
The speakers will address the pertinent and still controversial issue of responsibility for health in the workplace: what should employers be doing and how can they encourage staff to manage and improve their health? How can this responsibility be best shared?
In the last few years, health has been creeping up both public and corporate business agendas. However, understanding what it means to companies of all sizes, where it starts and finishes, and whose responsibility it is, is still unclear and continues to fuel debates in all industry sectors. The conference speakers will address these issues while sharing their professional insights and personal experiences.
The conference will be chaired by Steve Hails, Director of Health, Safety & Wellbeing at Thames Tideway Tunnel. He is also the former Health & Safety Director of Crossrail. The keynote speaker at the event will be Professor Dame Carol Black DBE, FRCP, a senior policy advisor on work and health to the government.
Speaking about the conference, Mike Robinson, Chief Executive of the British Safety Council, said: "A clear challenge facing us as an industry is 'health'. We know that 'safety' has dominated the conversation for decades. Now we are looking at the place of health in this debate. Is it occupational health or is it health and wellbeing? The question remains how do we encourage health: what opportunities are there to learn lessons from the safety culture to help build a health culture?"