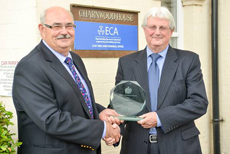 Geoff Tate, CEO of the SSAIB has won the Peter Greenwood Award at the 2014 ECA Annual Awards. Sponsored by the Fire and Security Association (FSA), the Peter Greenwood Award recognises professionals in the security systems industry who have made an outstanding contribution to the sector. It was set up in memory of former Head of the Electrical Contractors' Association Security Group, Peter Greenwood, after he passed away in 1995.
Tate won the award for his work with the SSAIB over the last 15 years. After taking over the CEO role from founder David Hinge, he built SSAIB into a body with more than 1,500 registered firms, and expanded its remit within the sectors of manned services and electronic security systems, fire protection, environmental management and occupational health and safety management systems, as well as telecare monitoring equipment for social alarms.
Geoff Tate said: "I'm delighted to have won this award, and that my peers feel so strongly that my work merits winning this. The past 15 years have been significant for SSAIB, as we've tried to strike a balance between expanding our offerings and services without losing sight of the qualities that set us apart from other certification bodies. I am pleased that, despite our increase in size and scope, we have been able to preserve this vital aspect of our identity and culture."
Pictured: Pat Allen, FSA Chairman presents Geoff Tate of the SSAIB with the Peter Greenwood Award.