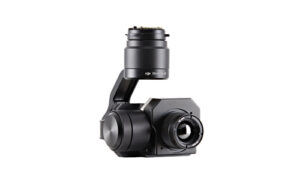 FLIR Systems has announced a new technology collaboration with drone manufacturer DJI Innovations. Under the arrangement, the companies also announced plans to develop their first joint product, the DJI Zenmuse XT stabilised camera featuring FLIR's thermal imaging technology for DJI's Inspire 1 and Matrice aerial platforms.
Combining DJI's Zenmuse stabilised micro-gimbal technology with FLIR's Tau 2 thermal imaging camera core, the Zenmuse XT will expand the possibilities for commercial drone operators and infrastructure inspectors.  Using FLIR thermal imaging on small drones brings new capabilities to commercial applications, including search and rescue, firefighting, agriculture, wildlife protection, and the inspection of energy infrastructure, bridges, and buildings.
The addition of thermal imaging provides users the ability to see in complete darkness, measure temperature remotely, and see through obscurants like smoke, dust, and light fog.  Zenmuse XT users will have the ability to see minute temperature variances – normally invisible to the naked eye – that can signify potential problems in buildings, detect the presence of people or animals, and monitor the health of mechanical and electrical equipment remotely.  Its integration with DJI's Lightbridge live video downlink system and the DJI GO app will also give drone operators real-time control and recording during flight.
"FLIR and DJI today support many of the same commercial applications," said Andy Teich, President and CEO of FLIR. "FLIR is thrilled to work with DJI to deliver these customers a plug-and-play thermal imaging solution for DJI's established ecosystem of unmanned aircraft and related apps while expanding our collective opportunities in the rapidly-growing commercial drone market."