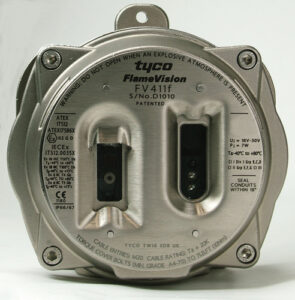 Tyco Fire Protection Products has introduced a new flame detection system under its Flamevision brand. The FV400 detector range is based on S200 technology, providing a solution to reduce the risk and occurrence of false alarms for hazardous environments in oil and gas, petrochemical and industrial processing facilities.
FV400 detectors combine triple infra-red (IR) solar blind technology capable of filtering background radiation caused by other heat sources or reflected sunlight, with flame detection algorithms to provide the sensing capabilities. This enables reliable flame detection through high densities of solvent vapours and black smoke from many different types of hydrocarbon fires, such as alcohol to aviation fuels. High sensitivity to flame throughout the field of view increases the likelihood of accurate early detection, ensuring the fire is extinguished safely and effectively.
The FV400 range features sensing technology with a detection range up to 65m for a 0.1m2 n-heptane pan fire. Multiple field interfaces ensure the detectors can be integrated into the plant DCS/PLC systems via Modbus, relay contacts, conventional or 4-20mA protocols, or alternatively connect directly to the Tyco Zettler fire detection system, whereby data is collected by the addressable control panel and connected to the site safety system. Further visual verification is ensured via an optional integrated flameproof camera which helps site operators to take action should manual intervention be required.
Irene Fernández Camin, Special Hazards Product Manager, Fire Detection, Tyco Fire Protection Products said: "False alarms have a significant impact on plant operations and ineffective flame detection increases the risk of a serious fire event. Our FV400 flame detectors use highly sensitive and reliable technology for consistent performance across a range of industrial environments."