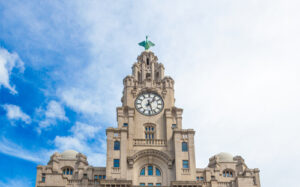 Liverpool's Royal Liver Building is the centre of the city's business district. Fire detection technology from Notifier by Honeywell is protecting staff and visitors at one of the world's largest international banking institutions, which is located there.
When the company moved into the Royal Liver Building, it sought to redesign one of the floors and install a set of high specification building services, including a new life safety system. AMD Environmental and Triple Star Fire & Security worked together on the project.
With Grade 1 listed status, everything possible is put in place to protect the building. After carrying out a survey of the bank's premises and taking into account the needs of the occupants, Daren Pool, Triple Star's Managing Director, and his team specified a fire detection solution based around Notifier's Pearl intelligent addressable control panel.
In addition to the Pearl control panel, over 60 Notifier optical detectors were installed across the occupied area. Sounder beacons are also used at the Royal Liver Building to complement the audible warning with a supplementary visual alert. The Notifier system has also been integrated to the Royal Liver Building's house fire detection system, it forms part of the whole building's broader C&E matrix, ensuring a strictly-controlled response throughout the site in the event of any alarm, wherever it arises.
The installation was completed on schedule and for Richard Cook, Project Manager at AMD Environmental, who concluded:  "The customer at the Royal Liver Building is delighted with the Notifier Pearl system, which is simple for security and other staff to operate, looks good and has had no unwanted alarms since it was first commissioned."