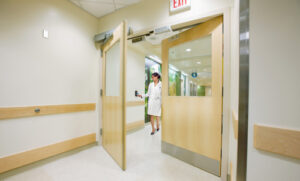 Allegion is encouraging facilities managers, fire safety managers and maintenance supervisors, as well as others in charge of safety in public sector buildings, to assess their door closing devices, in case an adjustment is necessary.
A recent warning from The Department of Health has highlighted issues in public sector buildings with regards to heavy fire doors closing too fast. The warning was prompted by a tragedy that occurred within a hospital regarding an electromagnetic hold-open door closer that was released due to a power failure and closed too quickly, despite being compliant with the British Standard BS EN 1155/4 and maintained regularly.
The Department of Health has suggested risk assessments be carried out on all fire door closing devices to assess the appropriate closing time, taking into account the occupancy of the building. To avoid such tragedies, adjustments should be made, where appropriate, to lengthen the closing time to the higher end of the tolerance and allow enough time for occupants to pass through doors safely.
Jo Milne-Rowe, specification manager at Allegion, said: "Thousands of electromagnetically hold-open door closers are fitted every year and never encounter any issues. Still, we can't stress enough how important it is that closing speeds are regularly checked and adjusted to suitable speeds for building users. For example, a less-abled person may need the door to stay open for a longer time, to allow them to pass through it. The safety of people using our products is paramount, and we want to encourage people to maintain them, ensuring the closing speed and delayed action is suited to the situation."
In addition to checking the closing speed of door devices, door hardware needs to be regularly serviced and maintained.