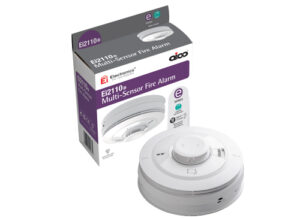 Aico has launched its new multi-sensor fire alarm, the Ei2110e, which contains two sensor types, optical and heat.
The system uses these dual sensors to constantly monitor smoke and heat levels, sending and receiving information via its detection software. It is this sensor information that alters the alarm's sensitivity and trigger points, automatically providing the best response to all fire types and reduces potential unwanted alarms.
The Optical sensor is housed in a cylindrical chamber, which has a bonded protective mesh to keep out potential contaminates such as dust and insects whilst still allowing the free flow of smoke. Additionally, the multi-sensor has a self-monitoring dust compensation mechanism incorporated into its software. The sensor self-monitors minute changes in dust levels, recalibrating the alarm trigger point as required. This reduces the number of unwanted alarms, maintenance costs and makes them ideal for alarms sited in difficult to access areas.
Aico's AudioLINK technology has also been incorporated into this alarm, which allows the extraction of real time data from the alarm using the sounder directly to a smartphone or tablet via an app to create an alarm status report.
The report is created for the life of the alarm and is colour coded to identify the urgency of any issue. The report displays information about the alarm, such as battery life, alarm sensors status, number of times tested and removed; and any alarm activation, with details of when it occurred – all in a simple format.