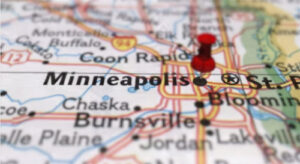 Open platform IP video management software (VMS) from Milestone Systems is improving safety and public services in eight cities around Minnesota's largest metropolis. Minneapolis/St. Paul is the most populous area in the state with a sprawl of more than 3,000,000 people.
Eight cities covering more than 200 square miles have formed a circle of relationships by connecting their video surveillance to protect citizens and quickly resolve incidents that can cross between their borders. With the networked Milestone XProtect video management software, individual municipalities control their own security monitoring yet quickly connect with neighbouring systems for collaborations.
"We had a collective idea between municipalities to centralise local systems with the same IT backbone. Every city can adopt software from the Milestone platform to have its own system.  But there are times administrators may want to open access to their system to solve a mutual incident, and they can get assistance from neighbouring emergency services for as much help as possible to solve a problem. Sharing camera feeds through Milestone has been a valuable yet easy-to-integrate solution that each municipality has eagerly installed," says Tim Ferrian, Director of Sales and Marketing, Pro-Tec Design.
Security integrator Pro-Tec Design identified the parallel and individual needs of each city and their various departments. For example, the police department in one city has a variety of unique applications different from the IT department, schools or retail business in another. The widespread commonality for all cities was the need for IP video management software (VMS) to replace limited legacy analogue systems.
Milestone XProtect VMS with its open platform technology allows each city to monitor and secure its own assets, be it a government building, transit stations or city-owned business. Milestone enables each to strategically design and install the hardware and software that meet its own needs, providing a cost-effective, flexible solution that can also be shared across locations to leverage more resources. With a combined Milestone VMS service, updates and maintenance are streamlined for quick response from Pro-Tec.
Milestone solves the core needs of each municipality but offers feature sets and client interfaces that address unique requirements. For example, Milestone Mobile is deployed on tablets and smartphones. The cities are saving money by deploying emergency services, knowing exactly what they are dealing with before sending out first responder teams. Pro-Tec also expanded the open platform into additional applications, such as video integration using XProtect Transact for government-owned retail stores.
There are many common themes within city surveillance: watching out for the visitors of city halls, keeping track of persons in custody at police stations, providing evidence for investigations, protecting staff and equipment, monitoring community pools and protecting the government from liability, or watching intersections for public works operations (moving snow, salting roads). There are also such needs as monitoring a busy farmer's market, senior centres, community sports, schools, historical landmarks, water towers and treatment facilities.
These eight cities are currently linked via Pro-Tec's Milestone video solution: Shoreview, Farmington, Brooklyn Centre, Minnetonka, Maple Grove, Brooklyn Park, Edina and Minneapolis Proper. In addition, the Minnesota Department of Transportation (MNDOT), Minnesota Department of Employment and Economic Development and the Minneapolis Convention Centre are included within this 'Ring of Protection'.
Brooklyn Centre has integrated the Point of Sale (POS) systems at its liquor stores with Milestone's XProtect Transact software, which displays video associated with register transactions. This integration gives a time-synchronised interface linking receipt data with corresponding video, extending the monitoring of operations to include actual cash register data. This identifies problems involving POS and credit cards to reduce shrinkage and fraud, providing a safer shopping environment.