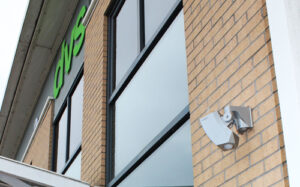 When DVS moved to new premises, it chose outdoor Redwall detectors and infrared beams from Optex to protect the perimeter and approach of its warehouse and offices.
The system chosen to protect the new facility has two principal purposes: firstly, to secure the property, staff and stock; secondly, as a way of demonstrating the use of the intrusion detection system to potential clients in a new demonstration room.
"Our new large premises include open spaces and open access from public areas into the private space, so we had to choose technology that would prove not only to be reliable and robust, but was easy to setup and provide the cover for the layout," says David Davies, Technical Sales Manager, DVS.
The detectors chosen included five outdoor IP Redwall PIRs (SIP-4010-IP units) installed on the front of the building situated on a CCTV tower, covering the building's approach and securing the car parking area. Since the sensors are PoE compliant, cabling was simplified, cutting down on installation and power costs.
The side and rear of the building are protected by Optex beam towers that form a virtual perimeter. These were specified to accommodate the wildlife and environment; trees and shrubbery surround the premises.
The detectors are integrated with Hikvision cameras, triggering preset positions and the CCTV system is monitored outside opening hours by a remote alarm receiving centre.