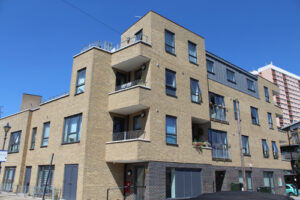 Delta Security has won a new contract with Gateway Housing to provide full maintenance and repairs to the CCTV, access control and gate systems installed at Gateway's portfolio of 3,000 residential properties.
The new three-year contract, which covers the East London boroughs of Tower Hamlets, Hackney and Newham, was won in a tender including six other security suppliers. The tender was a part of a wider company drive to rationalise and professionalise all procurement. Criteria included value for money, customer-focused delivery and the ability to provide compliant support to all tenants within a set time period.
As part of the new contract Delta Security has also delivered a programme for planned upgrades and regular maintenance to support the Housing Association's commitment to 'pre-prevention maintenance' (PPM).
John Gilbert, M&E Contracts Manager at Gateway Housing, says ensuring excellent customer service on maintenance projects is key to its continuous improvement goals: "Dave Mundy, the MD of Delta Security, and I hold a combined vision for how we can further streamline processes to ensure our residents have the most efficient and effective maintenance and repairs service. Delta has provided out-of-hours support to ensure this partnership starts in the best position, and so far, we could not ask for any more."
Dave Mundy, Managing Director at Delta Security, says: "We are extremely pleased to add Gateway to our portfolio of Housing Association clients and look forward to delivering on this new partnership."