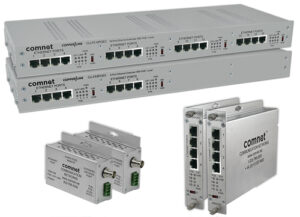 ComNet Europe is introducing upgrades in its CopperLine Ethernet over COAX/UTP distance extending product line with two distinct CopperLine products that feature different power over Ethernet capabilities.
The first, the CLFEEOC line is the upgrade to the existing CopperLine products, offers extended distance transmission with pass-through PoE meeting the IEEE802.3af standard. The second line, the CLFEPOE series can act as a PoE power source (PSE), injecting IEEE 802.3at PoE+ to powered devices as well as support for pass-through POE+.
These products are designed for applications where existing copper media, such as coaxial cable or twisted pair (UTP) is currently installed and are an alternative to installing new media.
According to Steve Clarke, ComNet Europe Managing Director: "Our Gen 1 CopperLine was very well received, but as we went on we discovered limitations to its capabilities, in short, many network PoE devices required greater compatibility than our existing CopperLine could provide.  Our all new CopperLine PoE series is designed to be a PoE power source and can supply 30 watts of PoE+, perfect for many of the network devices that require higher power to operate or can operate in pass-through power mode."
"Our all new CopperLine will consist of one, four, eight and sixteen channel models that utilize coaxial cable or twisted pair. The new design utilizes many of the same enclosures as the current ComNet product line and is more easily integrated into installations where other ComNet products are being used. " Clarke concluded.