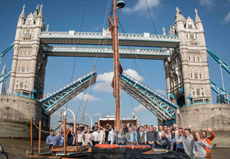 Earlier this month, Comelit UK, invited a group of architects, consultants and systems integrators to attend a seminar hosted aboard Will, a former Thames river sailing barge. The purpose of the seminar was to update clients about the latest developments and new capabilities of ViP, Comelit's video Internet protocol door entry system.
At the seminar, Comelit staff introduced the company's new Call Logging Software, which enables the interception and recording of video and audio between the entrance panels and internal monitors. The software also records a log of who called, the duration of the call and who released the door.
During the event on the Thames, Comelit unveiled two new additions to its range of IP entrance panels: the 3-One-6 Analogue and the 3-One-6 Sense, both of which were available for demonstration to guests on board the barge. The overall objective of the seminar was to help customers embrace the concept of IP door entry systems as a whole.
Francesca Boeris, Sales Director, Comelit UK, said of the seminar, "This event is now firmly established in our event calendar as an opportunity to update our customer base about our continually evolving full-IP door entry system, VIP. Our aim is to help our clients realise the benefits of Comelit's IP technology and the fact that it is now a real alternative to traditional analogue systems."