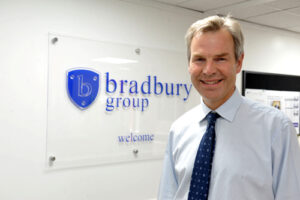 Bradbury Group has been named a national champion in the European Business Awards 2015/2016. The Scunthorpe based manufacturer of steel doors and security grilles received the honour in the Entrepreneur Category and now goes head to head with entries from 33 countries across Europe.
The Company was nominated after coming to the attention of awards sponsor, accountancy firm Baker Tilly, following successes in the 2015 Hull and Humber Chamber of Commerce Business Awards.
Managing Director Tim Strawson (pictured) says: "I am delighted that our success has been recognised in the wider context of Europe."
In the last five years, Bradbury Group turnover has quadrupled to nearly £18 million and profits re-invested in expanding the Scunthorpe plant to keep pace with demand for products. Last year saw the launch of the Bradbury Academy (working in conjunction with North Lindsey College) which provides workplace based and classroom training for Apprentice Engineers. Tim Strawson has also been instrumental in the foundation of Youth Engineering – a charity based in Scunthorpe providing an opportunity to get on the employment ladder for long term unemployed young people.
In the next stage of the European Business Awards, Bradbury must submit a video which is subject to a public vote.