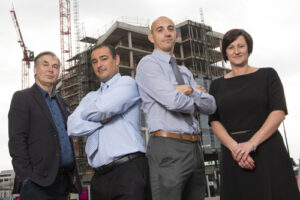 A Cardiff-based security company which opened for business last January is expanding with a £35,000 micro loan from Finance Wales. Set up by security professionals, Leighton Thomas and David Delbridge, Aegis Security provides CCTV-based security services to companies in South and West Wales.
"David and I have worked for a number of security companies over the last 13 years and decided to set up on our own in 2014," said Leighton. "We'd been carrying out more and more CCTV work and saw a potential opening so we set up Aegis.  Our first nine months have been busy, the business has grown quickly and we've already taken on some new staff.
"We were struggling to find finance and Noel Williams of accountants Kilsby & Williams helped us get the project off the ground. He helped us with our business plan and introduced us to Finance Wales. They processed our application quickly and once everything was in place we received the loan within a week.  We're using the loan to support our cash flow and buy some new equipment."
Rhiannon Brewer, Senior Investment Executive in Finance Wales' Micro loans team worked with David and Leighton to understand their business plan and come up with suitable loan. She said: "David and Leighton are experienced professionals who understand the security industry well and also make a good team. Finance Wales was pleased to provide Aegis with the cash injection it needed."
Planned growth over the next few years will see Aegis establish a network of regionally based, sub-contracted CCTV specialists.
Pictured (L-R): Noel Williams, Kilsby & Williams; Leighton Thomas and David Delbridge, Aegis Security; and Rhiannon Brewer, Finance Wales Senior Investment Executive