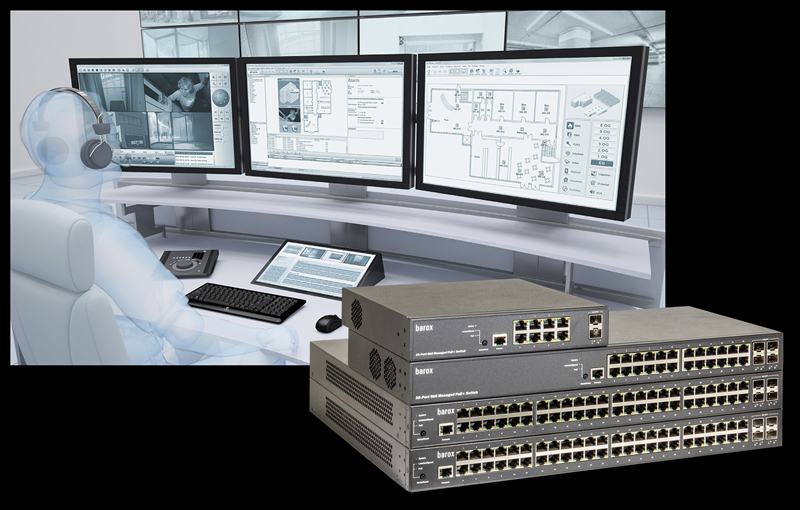 barox Kommunikation AG has enrolled as an Advancis Premium Technology Partner.
Advancis Software & Services, the manufacturer of WinGuard PSIM, is committed to open architecture and vendor neutrality to provide clients with freedom of choice and the ability to unify monitoring and control operations of disparate system brands of all types. Through close cooperation, Advancis aims to achieve deep WinGuard integration and control of technology partners' systems, as well as continuous involvement to always keep the integration up to date and beneficial for all stakeholders.
barox active switch integration with WinGuard can deliver enhanced diagnostic data, showing the status of cameras and switches, and allowing the fast pinpointing of network/device issues. For example, if a network camera fails to respond, barox switches can be used to select a device and send a re-boot command.
"We've thoroughly tested specific integration features of barox managed switches, which we identified as highly useful for our joint customer base during technical workshops between Advancis and barox," explains David Teppe, Strategic Alliance Manager, Advancis. "With barox PoE Switches and their current integration into WinGuard, we can, for instance, remotely restore lost camera signals that are being caused by device errors and that can be fixed by a device reboot. This is particularly useful if a camera is difficult to access due to where it is mounted (e.g. on high poles at parking lots, in tunnels or under ceilings in crowded areas such as airports or entrance lobbies).
"We're looking forward to providing joint barox/Advancis solutions for any size of application, small or large-scale, including critical infrastructure, ports, airports, prisons, banking, retail, utilities, transportation and with systems such as CCTV, access control, fire, intercom, public address and complete building management control."
"Partnering with Advancis is a great step for barox", says Rudolf Rohr, barox Co-founder and Managing Partner. "With our close technical partnership, Advancis and barox are ideally placed to help installers and system operators to proactively identify and respond to camera degeneration or automatically reset frozen cameras by interrupting their PoE and forcing a reboot. This functionality is perfectly extended by an easy identification of all devices on CAD plans and GIS maps in WinGuard, as well as guided workflows, and logging of all operator actions."