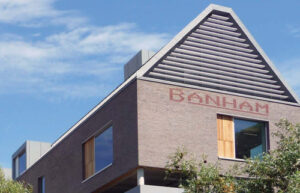 The Banham Group has moved into its new headquarters in Earlsfield, London marked with a celebratory event attended by many local dignitaries and security industry guests including PSI. The building was officially declared open by the Secretary of State for Work and Pensions, Iain Duncan Smith.
The development has been designed by architects Allies and Morrison and boasts an interior design plan built with a focus on sustainability. With its location on the once industrial site in Thornsett Road, Banham hopes to have kick-started the regeneration of the local Earlsfield area, not only through the move but also a commitment to provide local employment.
With over 300 jobs being brought to the area by Banham, Wandsworth Council is expecting an economic boost to local shops and businesses. Wandsworth Council leader, Ravi Govindia, said: "This is good news for Earlsfield. Not only are Banham bringing a vacant industrial site back into use and offering new employment opportunities to local people, but siting the company's headquarters here will provide a boost to local shops and businesses and benefit the wider local economy. We warmly welcome this investment in this part of the borough."
The new headquarters will provide a central operating base for servicing Banham's customers who can cut their patented, registered keys and test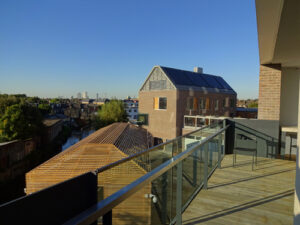 security equipment on the interactive displays. Customers can also see the first Banham lock and alarm and history displays and art installations, commissioned for the company. The headquarters will accommodate the Group's Edexcel approved education division, the 'Banham Academy' which provides apprenticeships, key training and skills to young people seeking employment within the security industry. Furthermore, Banham's 24-hour monitoring centre will be housed onsite, quadrupling in size and the Banham Charitable Foundation will also be based here.
Charles Hallatt, Executive Chairman at Banham said: "Our move to Earlsfield is a significant milestone for the company.  The new headquarters allows us to continue our growth and expansion for the foreseeable future and hopefully for the next three generations and more of the Banham family. At Banham, we pride ourselves on being very actively involved with local communities throughout London and the South East by working closely with local residents, councils and Neighbourhood Watch groups. We are proud that our new headquarters is providing positive reinforcement to the local economy. Our development has set a benchmark for the regeneration of the local area and we are very excited to have moved to Earlsfield."
Rt Hon Iain Duncan Smith said: "I want to congratulate Banham on their success as a family business. They have grown and expanded but kept faithful to the family roots over its 90 year history. The launch of the Banham Academy and its commitment to providing employment opportunities for young people within the security industry is an excellent example of how businesses can step up and invest in their workforce. Through the Academy, Banham will be providing key skills and training to young people between the ages of 16 and 23. Jobs in higher skilled sectors have risen by 180,000 in the last year alone and by nearly 1.2 million since 2010. This will help to create further employment opportunities and support young people to realise their ambitions."