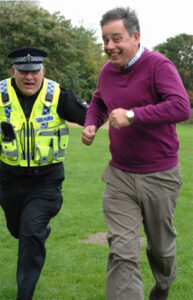 News came out this week via the South West Business website that the head of Allcooper had spent a day locked up behind bars. Roman Cooper, chief executive of the Gloucester- based company, was 'arrested' at Robinswood Hill Country Park as part of Gloucestershire Wildlife Trust's Jail and Bail fundraising event says the site.
His challenge was to raise £1,000 to bail him out by the end of the day.
Roman Cooper was captured by Sergeant Simon Clemett but appeared to be resisting arrest during the procedure as photographic evidence shows.
Roman said: "I'm extremely grateful to everyone who has donated to my bail fund so far – even those who want me to stay locked up for as long as possible. I'm delighted the money raised is going to such a great cause."
Even before his arrest, Roman's friends and family had raised £730 towards his release through justgiving.com/romancooper
Images courtesy of www.southwestbusiness.co.uk/