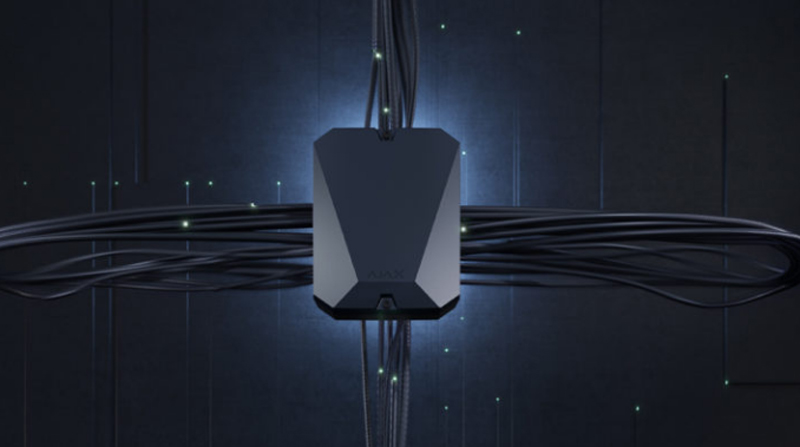 Ajax Systems has announced the launch of MultiTransmitter, an integration module that allows the connection wired detectors to the Ajax alarm, opening up more flexible settings for users, automation scenarios, smartphone control, and opportunities for upgrades.
According to Ajax, the system allows transforming the wired alarm into a smart security system while keeping the old security equipment. The module takes the place of the old security control panel and connects wired devices to a wireless control panel or hub.
The MultiTransmitter has 18 wired zones for connecting devices and tampers that support four types of contacts: NO, NC (without a resistor), EOL (NC with a resistor), EOL (NO with a resistor). Besides 18 zones, the module has three 12V power outputs: two main and one separate for fire detectors.
The unit itself is powered by the 110/230V main, and, in case of a power loss, there is a place for a backup battery in the body that will supply the module and the connected devices. The central unit and the users are notified about any power problems in the Ajax app.
Also, in the app, it is possible to define a room, a group, a device type (detector/tamper), and an alarm type for each device. Due to this, users can see a clear notification text indicating what happened, when, and where instead of the zone number of the triggered detector. And the security company receives a clear alarm code and responds according to the protocol.
For installers, the MultiTransmitter is a step towards remote service. In the Ajax PRO: Tool for Engineers mobile app or the Ajax PRO Desktop PC app, it is possible to remotely set the delay when entering/leaving, adjust a schedule for switching on the night mode and activation of a siren when the detectors are triggered, and temporarily switch off the device in case of a malfunction. Thanks to separate power terminals, false alarms of fire detectors connected to the MultiTransmitter can be reset in the app meaning no more unnecessary site visits.