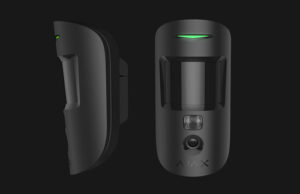 New products introduced by Ajax include MotionCam, a motion detector with photo verification of alarms, and the updated OS Malevich 2.8 which includes automation scenarios, smart home remote control Button, and Multi-Rex that enables protection of huge facilities.
The new devices and updates have been designed to eliminate violation of privacy by traditional video cameras, combine security equipment and smart home into a single system and to ensure coverage of large facilities with a single wireless security system.
Safe verification
MotionCam has been launched to address the problem of unverified alarms and security patrol calls by false alarms. Whenever the detector spots an intrusion, it takes several photos so that the owner and the security company can be convinced whether there is a real intrusion or the alarm has occurred due to simple oversights, hyperactive pets, or incorrect installation of the detector.
Ajax developed a new Wings radio protocol for the detector to guarantee transmission of images in less than nine seconds to a distance of 1,700 meters with batteries in the detector reportedly lasting up to 4 years. All data is encrypted when transmitted and stored, and images are not processed or analysed by anyone. Alarms are transmitted through the Ajax's main Jeweller radio protocol without any interference.
Automate routines
The updated OS Malevich 2.8 enables system users to automate their routine actions: e.g., security scheduling, managing home and office appliances, or counteracting any force majeure circumstances.
Examples (launching in beta version) include:
Scheduled night mode — arms the perimeter of the property and protects the family while they sleep.
Automatic doors and roller shutters — the scenario rules out the situations when employees forget to lower the roller shutters or lock the door.
Flood prevention system — detectors identify a pipe breakage and dishwasher leaks from the first drops. An activated Scenario can automatically shut down running water to prevent flooding.
For the convenient usage of scenarios, Ajax has expanded the functionality of its wireless panic button. The "Button" now supports two modes: regular Panic Mode and Control Mode that will let users run different scenarios. With a single click, they will be able to turn off the lights, switch on/off home appliances, lower the roller blinds or open the gate.
Multi-Rex
It is now possible to connect up to 5 ReX range extenders to one Ajax control panel. The coverage area has increased from 12 km² to 45 km² so with a single system, and without any complex restructuring,  thus secure an office building, a factory with concrete floors, a farm with many buildings and a vast territory, etc. ReX enhances the autonomy of the security system and increases its reliability. Each range extender combines the connected detectors into an independent subsystem. If communication with the hub is lost, ReX will take over facility protection.
PSI talks to Alexander Konotopskyi, CEO, and Valentyn Hrytsenko, CMO at Ajax Systems about the new technology in the January 2020 edition of the magazine