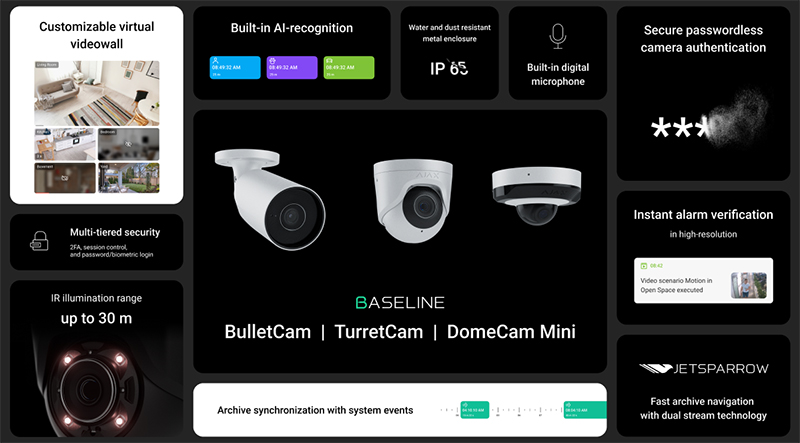 Ajax Systems has hosted its fifth Ajax Special Event, an online showcase of the latest devices and new software features. During the event Ajax introduced new CCTV products and enhancements to its intrusion and fire range, delving deeper into high-security solutions and updating its fire product series in response to various markets demands and standards of the fire sector.
Cameras
The new cameras, TurretCam, BulletCam and DomeCam Mini, embody signature Ajax design shapes with one of four possible configurations: a lens with a viewing angle of 85 or 110 degrees and 3K or 4K resolution. Every Ajax camera adapts to changing light with True WDR technology. Also, the IP65 rated cameras are equipped with a digital microphone.
The cameras utilise the Ajax Cloud to transmit system events. The proprietary JetSparrow technology ensures fast peer-to-peer transmission of video data. With AI analysis capabilities, these cameras can detect and recognise various object types, such as humans, vehicles, and pets. As a result, the surveillance system is able to record only relevant events, conserving storage space.
The synergy of Ajax systems and video surveillance will be delivered by Ajax NVR — a network video recorder. It offers integration with Ajax video management system (VMS), ensuring seamless synchronisation with the entire Ajax ecosystem, and allows compatibility with most IP cameras. NVR is available in 8 and 16-channel versions.
Yale integration
Ajax Systems has also announced an integration with Yale. Users will be able to manage and automate a Yale smart lock directly from the Ajax app. This functionality will be made possible due to an instant Cloud-to-Cloud connection through the Yale Home API, which will ensure smooth and secure communication with Ajax systems.
Watch the Ajax Special Event video here