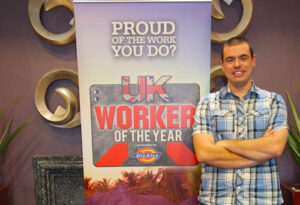 Paul Harris, an army veteran and installer for ACS Group from Catchgate, County Durham, narrowly missed out on winning the UK Worker of the Year 2016 competition run by workwear brand Dickies in association with Honda and ASDA. Paul was awarded Highly Commended, third place, and won £1,000 in holiday vouchers and a month's free shopping at ASDA.
Paul commented: "I really enjoyed my UK Worker of the Year experience, although it was nerve wracking: I told the judges I had felt more at ease whilst under fire in Afghanistan. But the judges were welcoming, and the other five finalists were all brilliant. I'd like to thank Dickies and the other sponsors again for this great opportunity and feel proud to have come third. The holiday vouchers will definitely be going towards a family trip to Spain next year!""
Rob Haines, sales director at Dickies said: "It was tough picking this year's winner, as everyone presented themselves brilliantly during judging day."
Kevin Skeith, a flooring specialist from Sleaford won this year's title, choosing the Honda Crosstourer 1200cc motorbike as his prize. The runner-up prize of £2,000 in holiday vouchers and three month's free shopping at ASDA went to Elstree electrician Christine Vaghela.