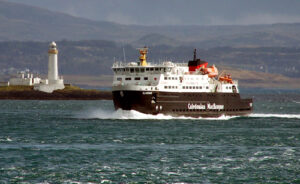 Scottish Communications Group (SCG) has been awarded a £1.85 million contract by Caledonian Maritime Assets Limited (CMAL) for the design and installation of a new CCTV solution at their Clyde and west coast network of 25 harbours, ports and slipways.  These range from Largs on the mainland to Tarbert (Harris) in the Western Isles.
The new CCTV system has been designed to improve safety and security for customers, Harbour Operator personnel, contractors and other harbour users, as well as provide RoRo Ferry Masters with live images of local conditions at destination ports. It is expected the improvement in the availability and detail of live information accessed remotely by RoRo Ferry Masters will help inform their decision making process and help optimise lifeline ferry service provision across all routes that use CMAL harbours.
SCG has also been awarded full service and maintenance contracts for all sites for a five-year term. This is the biggest contract won by the communications company since it was founded in 1979.
One of CMAL's key requirements was for a robust system that could operate within the extreme conditions of the West Coast of Scotland's marine environment.  SCG specified an IP HD CCTV solution that fulfilled the detailed CMAL specification requirements.
The system utilises Bosch IP cameras, including 5MP cameras, thermal imaging and MIC series fully functional cameras.  Inbuilt technology, such as Advanced Video Analytics, will be used to provide a safe, secure and health and safety conscious flexible solution for CMAL, which is the statutory harbour authority for 16 of the harbour locations and whose jurisdiction extends to the remaining nine port facilities.
Twenty-five individual systems will be installed that can be remotely accessed and controlled from CMAL headquarters in Port Glasgow. Additionally, authorised users can access the system from other remote locations or mobile devices. Installation of the system is due to start in January 2016 and is likely to be completed in early 2017.
Paul Gibson, Scottish Communications Group Managing Director said: "We are delighted to have been awarded this very prestigious contract, one of the largest of its kind in Scotland and we look forward to working with CMAL to deliver the latest CCTV technology. Due to the size of the contract, we will be recruiting additional staff, based in the west of Scotland, as well as creating new apprenticeship opportunities."
David McHardie, CMAL Harbour Master said: "The delivery of this contract will improve the safety of our ports and harbours for all users and the work forms part of our overall programme to improve and upgrade harbours across the network.  In particular, the CCTV system is aimed at enhancing the efficiency of lifeline ferry services by providing Ferry Masters with the ability to remotely access live images of their intended destinations to better inform their decision making process."