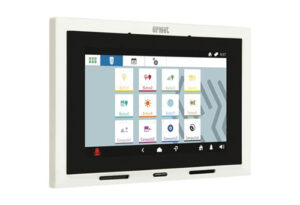 Urmet has launched the Max IP Touch, an Android-powered touchscreen video door phone. The thin screen uses swipe and gesture recognition similar to that of a smartphone and integrates into contemporary interiors.
Users are able to view and speak with visitors at external door entry panels using the Max IP's 7-inch colour video screen and duplex audio function. The system also allows call-forwarding to mobile phones via Urmet's Call2U App when occupants are away from home.
Specification of the Max IP touchscreen includes:
19 mm design
1024 x 600px screen resolution
2 LAN ports
WiFi
RTSP
7'' colour LCD monitor
2 megapixel camera
Integrated MIFARE proximity key reader
CCTV functionality with IP cameras
Powered by Android operating system
The Max IP Touch unit can be installed on a wall or be recessed, without compromising building aesthetics. The design (w 208mm x h 134mm), combined with a range of preloaded apps, helps architects to reduce the number of panel devices that need to be attached to the wall.