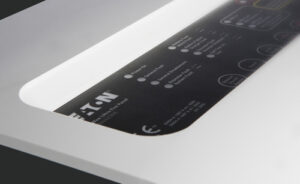 Eaton is aiming to simplify the installation of fire alarm systems in smaller premises with the launch of a two-wire system. The company's latest fire alarm system, BiWire Ultra enables all detectors, call points and notification devices to share the same zone wiring, reducing cabling requirements reportedly by up to 50 per cent.
To support the launch of the new system, Eaton has developed a new CPD certified seminar on two-wire systems. The CPD aims to help electrical engineers and installers better understand the different type of fire systems available and how two-wire can save costs compared with a conventional system.
BiWire Ultra comprises a fire alarm control panel alongside a range of devices including call points, a five-in-one fire detector plus a range of EN 54-23 approved beacons and sounder beacons. Available in two-, four- or eight-zone variants, the system can support up to 52 devices per zone. Wiring faults are easily found by initiating a flashing LED indicator on the detector nearest the fault.
Additional functionality of the system includes a class change facility for schools, which automates the class change bell via the fire alarm, expansion card support for fire alarm routing equipment (FRE) and fire protection equipment (FPE), and an interlink relay for connecting two panels together.