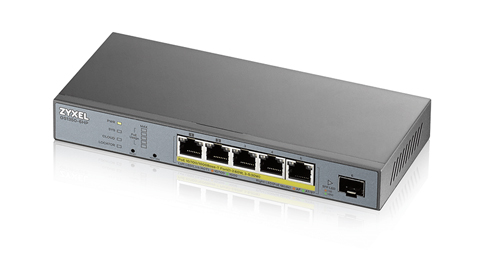 The Zyxel GS1350-6HP is a "Smart Managed Switch for Surveillance" with hardware and software designed specifically for surveillance camera use. This 6-port version has five PoE enabled ports and one SFP socket. All ports support up to 1Gb data rate with a 12Gb/s switching capacity and a 60-Watt PoE budget. 8, 16 and 24 port versions are available, each with 2 SFP sockets and PoE power of 130W, 250W and 375W respectively.
Getting started
The supplied Quick Start Guide provides basic connection details and suggests downloading a network utility called ZON for ease of network discovery and initial access to the device. A default IP address of 192.168.1.1 is set but DHCP is enabled so the address should not clash if connected to an existing network using this subnet. The supplied 55 volt 1.3 Amp power supply feeds the unit, on the front are the five main RJ45 ports and an SFP socket for an optional wired or fibre uplink module. It is strongly advised to connect a valid ground cable to the M4 ground screw on the rear of the unit before connecting network cables. Once powered, simply plugging network devices in will allow immediate communication.
The Zyxel website has a number of additional documents that users should download; these include, along with the usual Data Sheet and 2-page Quick Start Guide, an 83-page Handbook and a more detailed 343-page User's Guide. The handbook describes the majority of functions within the switch and has helpful test methods included, so should provide much of the information required, the User's Guide gives greater details.
Operation
The real benefits of this switch become clear when you connect and configure it using a web browser. The initial page requests the Administrator username and password. The default password is a simple 4 digit code and changing is not forced but reminders are given at every login if it is not altered. As this device is aimed at the security market it would perhaps be advisable to enforce a change to a "Hard" password at first use.
Read the full review in the May 2020 edition of PSI magazine