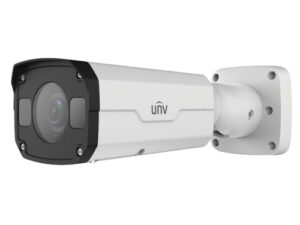 Promoted as a 5MP WDR Starlight Varifocal IP67 network bullet camera, the unit is based on a 1/ 2.7" sensor with a 2.7 to 13.5mm auto-focus motorized zoom lens giving a horizontal angle of view from 93.28° to 28.56°.
Getting started
The Quick Guide gives a basic level of information and recommends using a web-browser to set up the camera. DHCP is not enabled by default and the guide gives a default IP address of 192.168.1.13 and for the "admin" username a simple numeric 6 digit password. A search of the Uniview.com website for the camera's documentation gives access to an alternative Quick Guide that specifies the default address as 192.168.0.13. On connection the test camera was found to have an actual address of 192.168.3.32. The downloaded guide refers to EZStation software that allows discovery of Uniview devices outside of the current subnet and allows network address and password changes to be made. It is surprising that this is not supplied or referred to in the supplied information.
This EZStation software also allows multi camera display and replay of recordings from NVRs or the camera's internal storage.
The camera has a flying lead that breaks out into four connector leads with an RJ45 for PoE & Data, a Power jack for optional 12v supply, a 3 pole audio in/out and a 4 pole alarm in/out. Both the audio and alarm connectors have removeable screw-terminal sockets.
The 12v input is given as a wide ± 25%.
Operation
On connection to the web browser (IE11), the user is prompted to replace the default password with a strong version "of no less than eight characters" but this is not forced and you are able to stay with the default or even enter a simpler password if you wish although the indicator will show this as weak. Further prompts will be given when accessing via a web browser, but a strong policy is not mandated, and the prompts may be ignored. This is quite surprising given the amount of global industry concern for network security and initiatives such as Secure by Default / Secure by Design as promoted by the UK's Surveillance Camera Commissioner.
The browser will initially give a request for a Plug-In to be run and following your agreement to a lengthy Privacy Policy document, the live image screen is shown.
Task bar tabs for Live Image, Playback, Photo and Setup are presented. It was noted that only Live Image and Setup may be available for alternative browsers such as Chrome, Firefox and Edge. To the right of the image pane are Plus and Minus buttons for the Zoom and Focus functions. Activating the zoom briefly will activate the Auto focus if initially out.
In its maximum resolution the 5MP imager has 2592 x 1944 pixels so is in a 4:3 aspect ratio. The datasheet notes a 9:16 corridor mode, but there appears to be no mention of this in the guide and operation manual, so it is assumed that this is actioned by changing the resolution to 4MP and rotating the image 90°.
Read the full review in the April 2020 edition of PSI magazine