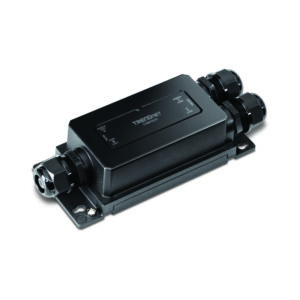 The 2-Port Industrial Outdoor Gigabit Active/Passive PoE+ Extender, model TI-BEP200 from TRENDnet enables installers to extend up to two PoE+ signals an additional 100m for a total PoE distance of 200m or up to 500m with daisy chained units.
The industrial outdoor PoE+ extender conveniently extends a PoE, PoE+ or Passive PoE network connection and is the latest addition to the company's Industrial PoE product line.
Construction
The build quality of this TI-BEP200 unit is fantastic, and more than suitable for external and industrial applications. The unit itself is of metal construction that is durable with all Ethernet connections being recessed and encased within the housing.
The unit is fully IP67 rated when the IP67 weather rated cable glands are used appropriately at installation, with operating temperatures of -40° to +75°C. During testing, this unit was mounted externally in -6° to -14°C and exposed to snow and frozen rain.
Set up
The unit is an unmanaged POE extender and is powered inline from an existing POE switch or power supply. The unit does not require any external power connections nor does it have the availability for external power. The unit can easily be used on a standard POE, POE+ or POE++ switch to extend the range by another 100m providing a 200m distance from the switch to your connected device. Depending on the input to the injector will depend on the maximum POE watt budget available. To achieve the maximum consumption budget the required input watt must be from a POE++ switch providing an input of 90W.
The TI-BEP200 can be daisy chained with up to 4 extenders from the switch giving up to 500m of data transmission using full duplex allowing for cameras, POE speakers, microwave transmitters etc to be connected to transmit data across this installation. With each unit connected there is diminishing returns on maximum watt output connected at the furthest point for example with a 90W input: at unit 1 there is 30W available, at unit 2 there is 24W available, at unit 3 there is 15W available and at unit 4 there is 9W available.
Read the full review in the January 2023 edition of PSI magazine