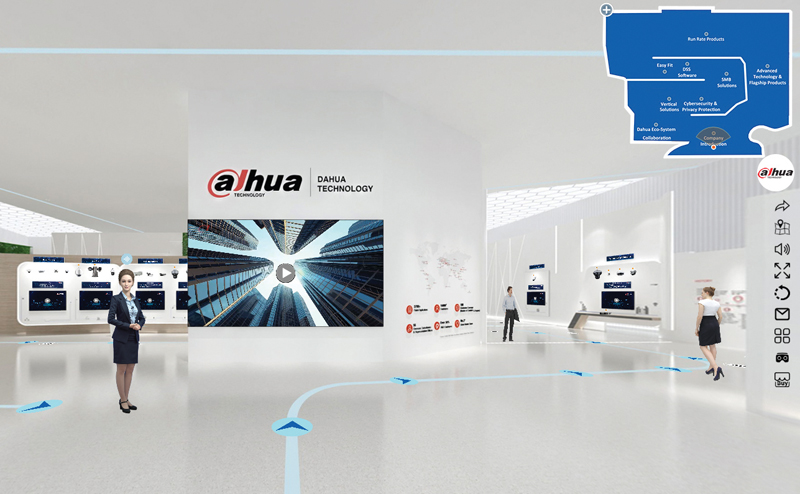 With the current absence of face-to-face trade events, Dahua Technology recently launched a virtual experience dubbed the Virtual Innovation Centre. PSI took the tour…
The Virtual Innovation Centre features immersive virtual reality, where visitors are able to walk through a large pavilion and see Dahua's latest product and technology innovations. Visitors can select an automatic tour of the entire pavilion to get an overview on what is on offer, with the option of stopping at particular exhibits to drill down to the level of detail they require. Alternatively, visitors can navigate the pavilion at their own pace, stopping off wherever they like.
Users can visit the site around the clock and there is no limit to the number of times it can be accessed.
"We are thrilled by the launch of our Virtual Innovation Centre, which has been carefully planned and designed to give users the optimum experience from the comfort and safety of their own homes or offices," said Michael Lawrence, Marketing Director for Dahua UK & Ireland. "It is the closest thing visitors can get to a live physical exhibition, but with the addition of a wealth of multimedia and online content."
In we go…
The virtual exhibition can be accessed either by web address or by scanning a QR code. For the purposes of this article we used the QR code, which took us to a page that required completion of a contact details form. Fromthe submission of the form, you enter the Centre. There are a few navigational tools displayed to help with zooming and movement etc, which vary depending on whether you are using a PC or a smartphone.
An array of action buttons are displayed giving quick access to map toggle, automated walkthrough, email contact, buying option, 3D glasses view and more. We decided to take a manual stroll through the centre using a smartphone and a VR headset for the 3D experience and following the arrows on the virtual floor the tour began.
First off, the screen shows the pavilion ahead with a greeter to welcome you to the area with a short audio presentation. Along the route there are footprint markers which you can "stand on" using the headset by holding the on screen pointer in one position. This is also the same method you use for starting video or viewing product data. Straight ahead is a corporate video and the footprint markers here put you in front of various company displays including one that gives an overview of Dahua (number of employees, R&D, distributor coverage etc) and a history timeline.
The first technology displays cover multi-sensor and panoramic cameras, the AI algorithm and the scenario defined camera. Holding the pointer on the display brings up either a video or some slides giving overviews of the technology. Any images of kit featuring an orange marker enable access to product datasheets which can be saved or made a 'favourite' for future reference.
Continuing on the tour are displays about various technologies including signage, PoE, access, thermal cameras, intercoms and HDCVI. The intercom area is particularly noteworthy as it displays three real application scenarios, AI, modular apartment and single house showing how all of the units connect up to make the installation.
Then follows an area dedicated to managing aspects linked to controlling Covid-19 issues such as wrist temperature monitoring, face mask detection, people flow control etc. The next area is dedicated to verticals such as smart energy, transportation, banking, smart residential and retail with plenty of video and information showing what the technology offers in these sectors.
The final display is dedicated to Dahua's technology partners (Paxton, Immix, Monitor, HKC, Optex, Webeye, Milestone and Wavestore) with each logo linking to a video and an external link.
The overall idea of the Virtual Innovation Centre is nothing new but it is put together very well, runs very smoothly and it does look like it could be a feature that Dahua will expand going forward. It's certainly worth twenty minutes of your time, so put the kettle on, settle down and have a look around!
For your own tour of the Virtual Innovation Centre click here