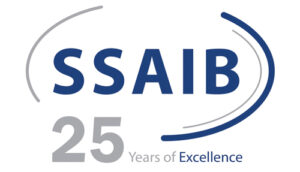 The Security Systems and Alarms Inspection Board (SSAIB) will be honouring its first 25 years with a series of celebrations throughout 2019.
Formed in 1994, the SSAIB is proud to have reached such an historic landmark as a certification body for organisations providing security systems and services, fire detection and alarm systems, telecare systems and services, manned security services and monitoring services.
Sales and marketing manager Andrew Brown – who is almost an ever-present at SSAIB, having worked for the organisation for the last 22 years – has been responsible for the planning of SSAIB 25 and he is delighted with the final outcome.
Andrew commented: "SSAIB has always prided itself on being a helpful, friendly certification body that still maintains professional standards and it's great that we've been able to achieve that for 25 years now. We set out believing in installers being able to have a choice of inspectorates and that ethos has allowed us to establish SSAIB in a field where others have tried and failed.
"Having worked at the organisation since 1997, it's been fantastic to see SSAIB grow into the fantastic success that it is today. Therefore, it's only right that we reflect on the achievements we've had so far and celebrate reaching a quarter of a century of certification.
"The SSAIB Ice Bar was a runaway success at IFSEC last year so it made sense to return this year with the SSAIB Lounge. Being able to tie that in with the launch of the Women in Security Awards is great as well, what with that event being a joint celebration for SSAIB 25.
"We've also unveiled the new SSAIB 25 logo for 2019, which will also be added to a number of commemorative items of merchandise that we will be handing out at all of our exhibition appearances. All in all, I'm sure it's going to be an exciting year for SSAIB and a fitting tribute to what has been a fantastic achievement for all involved over the last 25 years."