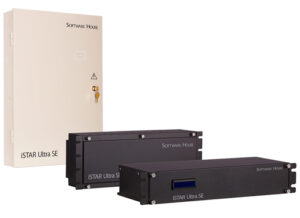 Tyco Security Products has introduced iSTAR Ultra SE, a special edition iSTAR Ultra door controller that supports up to 32 readers, and combines iSTAR Ultra features with a 'Pro mode' that ensures flexibility and compatibility with all Software House systems. iSTAR Ultra SE is available in both wall-mount and rack mount configurations.
When used in "Pro mode", the iSTAR Ultra SE has the same capabilities as the iSTAR Pro and is compatible with C•CURE 800/8000 and C•CURE 9000 Security and Event Management Systems. In "Ultra mode", advanced encryption, and wireless lock support are enabled and wireless locks can communicate with C•CURE 9000. iSTAR Ultra SE includes a hardened Linux embedded operating system for improved security and scalability.
iSTAR Ultra SE supports both traditional hardwired access control doors and wireless lock sets. It can manage up to 500,000 cardholders in local memory and employs two onboard gigabit network ports to provide redundant  communications to the host. iSTAR Ultra SE also features AES 256-bit FIPS 140-2 network encryption, with custom key management and DoS protection to protect against potential network threats. Dial-up communications to the host is even available for those customers that require it.
iSTAR Ultra SE also supports peer-to-peer communications, which means controllers can communicate with one another without needing host intervention. Other capabilities of the iSTAR Ultra SE include simplified network installation using DHCP and DNS, local and global anti-passback and area control features, and embedded intrusion zones. Custom keypad commands are also supported, which means events can be activated in C•CURE from the controller itself, and commands may be configured to require a card presentation or PIN to validate the command for use.
iSTAR Ultra SE's Configuration Utility (ICU) reduces start-up time by allowing users to view online controllers, change configuration parameters, and download new firmware from a single user interface. iSTAR Ultra SE is available as a wall-mount unit as well as a modular rack mount configuration, decreasing the space requirements and costs of installing a panel on the wall.