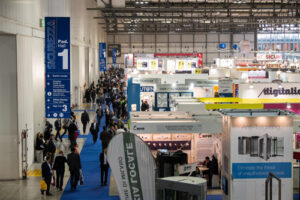 Given the number of requests received from exhibitors and authoritative sector representatives, the organisers of Sicurezza, the biennial international exhibition of security and fire prevention, have announced that the next edition of the fair will be from 3rd to 5th of November 2015 in Milan.
After results achieved in 2014 (29,000 sq.m. of exhibition space, 512 exhibitors, 20,301 visitors), organisers have come up with a strategy to move the exhibition into odd calendar years. As a result, Sicurezza will be an autumn event; following numerous exhibitors' requests; November has been maintained as the month of the fair precisely because it is deemed a particularly favourable one for this sector.
Sicurezza 2015 will not only have a new calendar, but a renewed concept which will have integration as its underlying theme. As well as security, which remains its core business, synergic sectors will be joining the fray, opening up a window on the world of the "Internet of Things" in which the 'things' become smart and can communicate with one another, and everything – from infrastructures to the industrial sphere, even individuals – can link up in a single network which is a sphere in which security technologies are increasingly one of the most crucial factors through which to achieve progress.
The exhibition will have a much more extensive area focusing on domotics and intelligent buildings and will pay greater attention to cyber security. Furthermore, there will be a dedicated area on road safety which will include urban lighting solutions, special vehicles and GPS systems. There will also be a broad focus on fire-prevention products and services, both from the point of view of fire-detection and fire-fighting systems.