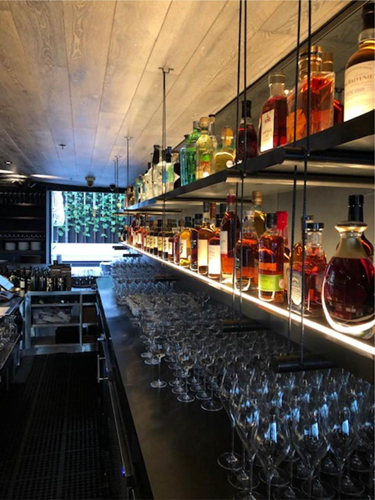 Optex has specified and installed its Redscan RLS-2020 LiDAR laser sensors at a new five-star Londoner hotel in Leicester Square.
Part of the Edwardian Hotels London group, The Londoner, which opened in September 2021, is billed as the world's first super boutique hotel. It has 350 rooms across 16 storeys including six basement levels, featuring six concept eateries, a private members club, a cinema, a wealth of meeting and event space and an entire floor dedicated to health and wellness equipped with a gym, pool and spa.
The hotel has six restaurant and bar areas in total with expensive whiskeys, wines and other drinks on display 24/7 with no shutters or coverings. Given the cumulative value of the drinks behind each bar, the hotel needed to find a security solution to keep its valuable stocks protected. The solution needed to be accurate and reliable, and capable of integrating with the hotel's existing security system, as well as being aesthetically discrete.
Optex specified and installed its Redscan RLS-2020 laser sensor in the ceiling at each of the seven bars. The RLS-2020 sensors provide a customisable 'virtual' wall or plane that cannot be seen by the naked eye with a 95-degree detection area of 20x20m or 30m radius detection range.
The laser technology works by analysing the speed, size and distance of the objects detected, meaning they track the objects within the detection area and understand the ratio size/distance of the object. This provides the ability to accurately detect a specific size of object either at distance or close up. In the event of any movement being detected, a security alarm is raised, and alerts are immediately sent to the 24-hour on-site security control room.
Darren Carter, Group Director of Safety, Security and Sustainability at Edwardian Hotels London, says: "We've worked with Optex for a number of years, and installed their technologies at a number of our other hotels in the group. The laser sensors are a simple, yet highly effective solution, providing the highest level of detection that easily integrate with our wider security operation at the hotel."
Ben Linklater, Optex Commercial Director, says: "We are proud to have worked on such a prestigious project, with the Londoner set to become one of the world's most talked about hospitality experiences."