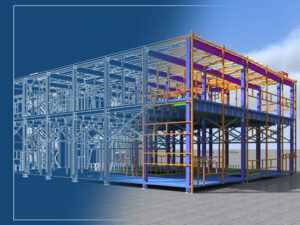 Integrated fire and security solutions business Evolution has said that the security industry is being too slow to adopt and adapt to BIM – Building Information Modelling – and reap the benefits it can bring in the design and commissioning of new security installations.
Evolution believes that architects and contractors are being similarly slow to engage with security businesses early in the design process, unintentionally creating problems – and adding cost – that could be avoided with greater foresight and planning.
As a digital representation of the physical and functional characteristics within a facility, BIM allows information to be shared quickly and easily among interested parties, not only in the initial stages of a building's design, but also after its completion.
For some reason, however, security – and the impact of security design – is not yet a core part of BIM thinking. Whereas architects are principally concerned with how the building looks and 'flows', little thought seems to be given to operational security requirements, despite the significant impact on the location and siting of power, conduits, and lighting.
As Evolution's Brendan McGarrity explains, security integrators are being engaged after the event, and not before: "Installing high-speed gates and turnstiles after the event on a marble floor is clearly going to be more challenging, impact programme, affect the aesthetics – and be significantly more costly – than if the installation (and the practical considerations) had been factored into the initial planning and design.
"Similarly, when a risk profile demands a CCTV view of a particular area, but the view of that areas is obscured or there is no way of affixing the camera to the necessary wall, then that too could have been addressed at an earlier stage."
A building that is built with a specific purpose, Brendan says, is different from a general commercial premises that may house future tenants with very different needs, but there will still be core elements of security in 'shared' areas that need to be accommodated: "But in the same way that the architect may consider the ducting for the HVAC, and include it as part of the BIM model, so too should there be a conversation with the security integrator. By engaging with all parties, at both the design and the fit-out stage, we can collectively save everyone from a whole heap of trouble, inconvenience and cost further on down the line."