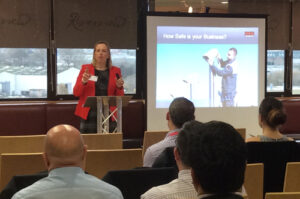 Businesses had the opportunity to discover new security technologies and review their existing procedures at a recent seminar hosted by Securitas. ' How Safe is Your Business', was held at the Stadium of Light in Sunderland and enabled business owners and security managers to gain an insight into current challenges, evaluate threats and risks and learn how to mitigate them effectively.
Grainne Kelly, Securitas Area Director for North East, Cumbria & Scotland, said: "The security market place has changed dramatically in recent years, with new options open to customers to ensure their premises are secure. The seminar benefited from a line-up of expert speakers who were able to share their knowledge and answer lots of questions from our audience."
Speakers included Detective Inspector Glen Alderson from the British Transport Police (BTP), whose presentation centred on the constant threats faced from metal theft and the advances BTP are making in countering the problem.  Delegates also heard from Securitas Chief Operating Officer, Shaun Kennedy; Technical Director, Pete Brown and Director of Risk, Peter Speight.
During the seminar, a range of new technology solutions were demonstrated which can be integrated with existing security packages.  Security workshops were also carried out which enabled delegates to discuss any potential security challenges they face.
Grainne added: "Security threats are ever-present and with the increased threat level across the UK, we all need to be aware of the challenges our businesses face and how best to mitigate any risk.  It's been a really interesting morning and we hope our delegates have returned to work armed with new knowledge and a renewed focus on ensuring their businesses and employees are safe and secure."