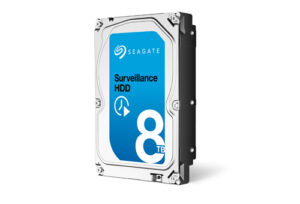 Seagate Technology has announced the 8TB surveillance hard drive disk (HDD), which the company describes as the largest drive of its kind for surveillance applications in the industry. Targeting surveillance system integrators, end users and system installers, the Seagate Surveillance HDD offers a solution for surveillance storage to keep systems in the field longer and reduce post-deployment support.
Launching the drive Matt Rutledge, Seagate's senior vice president, client storage said: "With HD recordings now standard for surveillance applications, Seagate's Surveillance HDD product line has been designed to support these extreme workloads with ease and is capable of a 180TB/year workload, three times that of a standard desktop drive. It also includes surveillance-optimised firmware to support up to 64 cameras."
Engineered to run 24×7, the 3.5-inch drive can store over 800 hours of high-definition (HD) content captured by up to 64 cameras simultaneously recording HD content.
"As higher resolution megapixel cameras become more commonplace in larger CCTV projects allowing video capture of much higher quality, Seagate delivers the 8TB. It not only allows us to deal with challenging environments but now allows us to get 6PB in one 42U rack, which was unthinkable a few years ago" said Costa Boukouvalas, Director, Agility Grid LLC
The drive incorporates rotational vibration sensors enabling it to reliably perform in systems with eight or more drives, as seen in the rapidly growing network video recorder market. This makes it ideal for use in businesses such as casinos or manufacturing plants, where bulk storage for HD video and video analytics are a growing necessity.
For a more in-depth look at the new HDD see the December 2015 edition of PSI magazine.